When it comes to a cell phone voice reorder and recording conversations, you can choose between devices with Bluetooth functionality or devices that have voice activated features.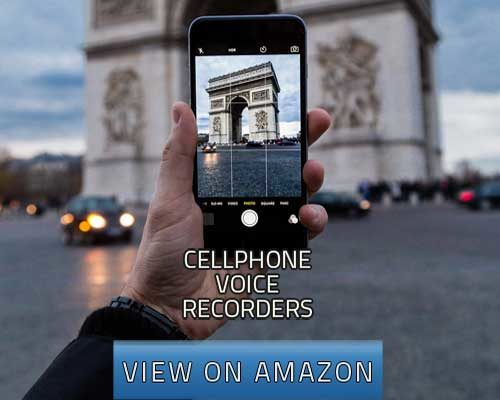 Impatient? Want to have a quick look?
✅ Take a look at at some of the best voice recorders available for mobile phones.
Recording a cell phone conversation can be very important at times, since it will provide the evidence of what was said.
Depending on the recording mode you choose, your voice recording quality will be crisp and clear.
Cell phone voice recorders can have capacities of up to 283 hours if you use the LP (Long Play) setting.
VR4GB Pro Cell Phone Voice Recorder
Comes with noise reduction technology so that you can enjoy a crystal clear recording.
It is voice activated and has other recording options such as the ability to automatically record at a specific time interval.
Can be used with cell phones as well as normal telephones.
Includes the voice recorder, an instruction booklet, a wall adapter, a set of earbuds, a telephone recording kit, an external microphone and a USB cable.
Cell Phone Voice Recorder With Built-in Bluetooth
The Bluetooth function of this recorder allows for easy recording of conversations.
The recorder has a durable metallic molding that will add an extra layer of protection in case of an accident.
It has various recording capacities and the longest recording capacity is 283 hours in LP (Long Play) mode.
Get this stylish recorder and start recording telephone or cell phone conversations now.
Are you allowed to use a phone recorder?
Of course there are legal uses, but when it comes to listening devices, it is best that you check with the laws in your country or state to ensure that you use a cell phone recorder legally before you buy.
Have a look at other covert listening devices that are available.
Also have a look at this article about how to record a phone conversation.