Hidden Camera Detectors are used to detect hard to find pesky cameras that can invade your privacy.
✅See a list of detectors and their prices.
Is your privacy secure? Do you require a professional or personal system to detect hidden cams?
When you visit public places, how can you be sure that you are not being watched by a hidden camera?
Do you have a hidden cam in your home that someone has installed somewhere?
Covert cameras are sold on a daily basis and there are quite a few web sites selling these cameras.
Ask yourself… What are those people using it for? To detect crime or to watch you?
Save yourself some embarrassment and make sure that you are not being watched by a hidden camera.
If you find a camera, at least you will be alerted and can take some steps to remove the cam or even catch the person who has hidden it.
Recommended Hidden Camera Detectors
✅RF Detector Anti-spy Signal Detector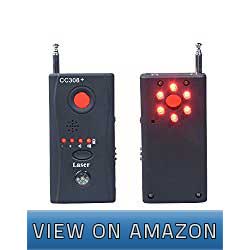 This hidden camera detector can detect hidden wireless cameras on the most common used frequencies.
It is has a scanning range of up to 10m (32.8 feet) and you will be able to detect hidden cameras in  all sorts of places such as hotel rooms, board rooms, locker rooms and other places that are popular to install hidden spy cameras.
This anti spy device is very popular.
✅Check out the great features of this anti spy device as well as consumer reports, reviews and prices.
Hidden camera detectors are one of the best ways to protect your personal privacy and it is always a good idea to carry one with you wherever you go.