Here I discuss some of the best spy movies that I have ever seen.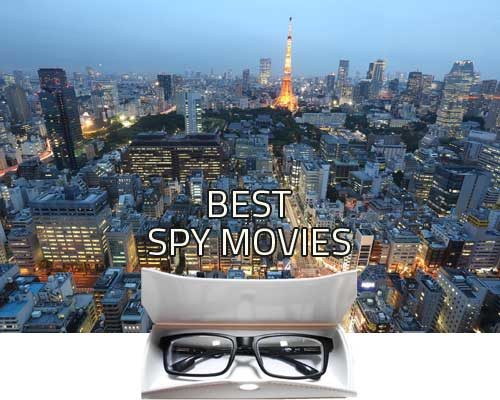 I am not going to list them in order, since I really enjoyed all of them.
I have been a fan of the spy genre for as long as I can remember.
Who is old enough to remember the older James Bond movies with my favorite actors such as Roger Moore and especially Pierce Brosnan?
I used to favor old jolly Roger heavily until Pierce Brosnan made his appearance.
I was really upset when they replaced Pierce Brosnan with Daniel Craig but he turned out to be ok in the end, especially in Skyfall.
Now, I will miss Daniel Craig when he leaves.
The mission impossible movies also packs a punch and is really good entertainment.
I also love the spy gadgets they use in the spy movies and this site is full of hidden cameras,  spy cameras and other covert listening devices.
Feel free to look up the actual details of the movies at sites like IMDb.com
Ok, so let's get started….
List of Best Spy Movies (English)
The hero of this movie is Arnold Schwarzenegger and although he has a funny accent, he is ok. This was quite a long movie and I really enjoyed every moment.
Have watched it about three times. This spy movie is funny, romantic as well as engaging. One of the best spy movies for me!
Once again featuring old Arnie. Technically, it's not a spy movie, but the story is definitely about a spy. I have seen this movie so many times! Fantastic entertainment!
I have seen all the bond movies at least two or three times and although I can't remember all the details of this movie, I clearly remember the Lotus (I think) going under water. Wow! That was nice! Starring Roger Moore. Funny guy!
Another Bond movie starring Pierce Brosnan. Actually I think all of his Bond movies were great. I really like his cool and sophisticated style. Another one of the best spy movies for me!
Matt Damon stars as Jason Bourne and I have watched it at least two or three times. The other movies in the "Bourne" series which starred Matt Damon was also cool.
Tom Cruise stars as Ethan Hunt and I really like the intro spy music. Even better than the James Bond intro music. Mission impossible 2 & 3 were not that bad at all, but not as good as the first one.
Well, there you have it. My list of the best spy movies that I have seen and enjoyed.
Have a look at the top spy gadgets. Of specific interest is the the same type of video camera glasses that was used in Mission Impossible.
There are a lot of spy stores where you can buy some of the spy equipment used in spy movies.