Feb 2018
Wireless mini spy cameras are used by a variety of people such as law enforcement, journalists, private investigators and more.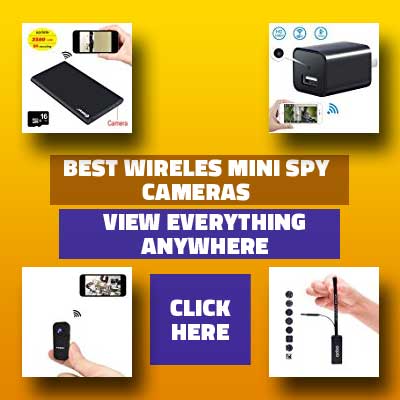 ✅See a great selection of small surveillance cameras that you can use for your intended mission.
When you need to do discreet surveillance and capture images and audio, a mini surveillance video camera is an ideal solution as it can easily be hidden and is less likely to get noticed.
A micro surveillance camera is also great for security purposes, as your chances of identifying perpetrators are greatly increased.
You can choose between wired and wireless options and some of them have audio capabilities as well.
The advantage you have with small wireless spy cameras is that you don't need to mess with any cables and installation is generally easier.
Generally, the more you pay, the better quality image you get as well as added benefits.
Of all the spy cameras reviewed here, none of them are perfect and you will see that consumer reports are generally positive, with some negative reviews mixed in.
Just shows you; there is no such thing as a perfect product… no matter how much money you throw at it.
All of the spy cameras reviewed here are hidden in unique ways.
Some cameras are hidden in plain sight, while others need to be hidden or obscured in some or other way.
We have taken care to review the best products in this category and although there may be some really cheap mini spy cameras available, we have chosen not to review them because they are generally below standard and may not work well (or worse; not work at all) when you buy them.
Have look at our top selections and reviews below:
Top 3 Wireless Mini Spy Cameras
We have made a selection of what we think the top wireless spy cameras are. See below our top 3 choices. Updated Feb 2018 Buying tip: If you can get it below $80, it's a bargain.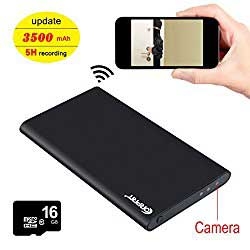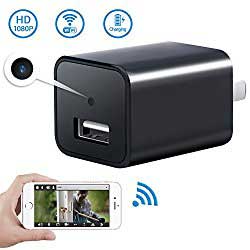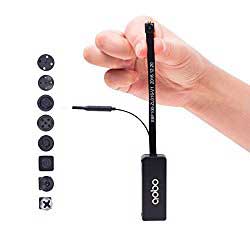 Best Wireless Mini Spy Cameras: Reviews
✅Mini Spy Camera WiFi Enabled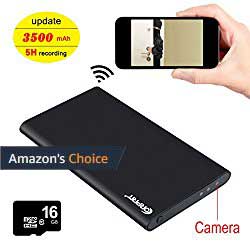 A power bank spy camera?
The things that people create these days are amazing.
We only realized that a power bank camera exists when a visitor to our site actually bought it.
Well, you are never too old to learn.
This spy camera is also a fully functioning power bank that you can actually use to charge your smart phone.
The spy camera lens is cleverly hidden at the side and if you don't know what to look for, you will never realize what the power bank actually does, apart from charging your cell phone.
With 5 hours recording time, you should be able to get enough footage to get the evidence you want.
You can watch all the action live from anywhere you please due to the WiFi this mini spy camera has.
✅See beautiful high resolution pictures here as well as consumer reports, reviews and other information.
Pros
Small, lightweight and ultra-thin.
Extremely covert.
Doubles as a power bank.
Cons
Cannot be fixed in one place.
Instructions are poor.
Some people experience WiFi connectivity issues.
✅FREDI Hidden Spy Camera Wireless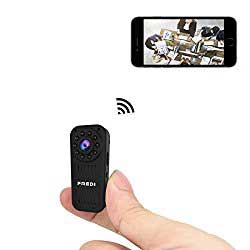 This micro spy camera is a best-seller and the small camera size, its functionality and price has helped this camera in achieving that status.
A surveillance camera like this has a night vision range of up to 16 feet.
This camera is ideal for use as a hidden camera and also allows for motion activated recording with audio.
Take it anywhere you like and do some discreet surveillance.
Small surveillance camera uses: Employee cam, back yard cam, child room cam, nanny cam and tons of other uses. Very easy to use.
User reviews indicate that this is one of the best mini spy cameras out there and this specific camera has received mostly 5 star glowing reviews.
✅ Buy now or learn more about this fantastic little spy camera and also see some consumer reports and reviews.
Pros
Mini spy camera wireless.
Has night vision.
Great image and sound quality.
Cons
Night vision image quality may not be good.
May run too hot and stop working.
You may need a microscope to read the instructions.
✅Portable Mini Wireless WiFi Nanny Cam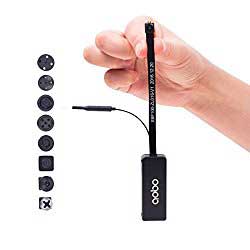 This is a best-selling mini spy camera that also uses motion detection technology.
One reason why this camera is so popular is because it is super small and super discreet.
You can actually put the camera in your pocket and start recording discretely.
This mini spy camera has wireless live feed so that you can view the footage in real time while someone else is actually wearing it and walking around with it.
The battery life is about 80 minutes and the batteries can also be re-charged.
The battery can also conveniently be charged through a USB port.
This is also the perfect mini spy camera for a car since you can easily hide it behind the rear-view mirror.
✅See the price here as well as more high quality images and information.
Pros
Wireless micro spy camera
Perfect for covert operations.
Can still record even if WiFi is not available.
Cons
Can be difficult to position.
May be difficult to connect to WiFi.
App not the best.
✅USB Wall Charger Wireless Mini Spy Camera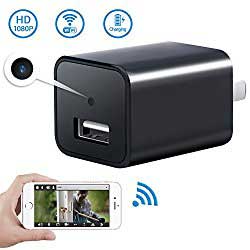 Whoever though of this must have had some inspiration, since hiding a camera in a USB wall charger is not a place that one would expect to have a small hidden camera.
There is no need for a battery since this wireless camera is actually designed to plug into a power source and also doubles as charger so that no one will suspect anything.
This mini spy camera with wireless live feed will allow you to watch footage from anywhere on your smartphone or PC.
Use it at home, your business or any other place that you need it at.
The camera itself is a 1920 x 1080P high definition camera which will provide superb quality images.
This mini spy camera has a motion detection function that will detect the slightest movement.
Pros
Very discreet.
Good customer service.
Good image quality.
Cons
Instructions not clear.
Some units have WiFi connectivity issues.
Wireless mini spy cameras make discreet investigation and security a lot easier but should only be used for lawful purposes.
Today's Best List:
Best Wireless Mini Spy Cameras
List updated:
Feb 2018